Filippo Brunelleschi's dome over the Cathedral of Santa Maria del Fiore. Sandro Botticelli's The Birth of Venus, which hangs in the Uffizi. Michelangelo's Madonna of the Stairs that is on exhibition at Casa Buonarroti. The incomparable Boboli Gardens dreamed up by Bernardo Buontalenti. Each one commissioned by a member of the Medici family.
While you're in Florence's city walls, the reach and influence of this infamous clan is inescapable, but when you venture in search of their sprawling villas nestled in the scenic Tuscan countryside, a more intimate portrait is painted.
I'll Take a Dozen Villas, Please
Twelve villas belonging to the Medici between the 15th and 17th century were inscribed as a collective into UNESCO's World Heritage list: Villas of Careggi, La Petraia, Castello and Poggio Imperiale, the Belcanto Villa in Fiesole, the Poggio a Caiano Villa, the Villa in Cerreto Guidi, Villa La Magia in Quarrata, Villa di Artimino in Carmignano near Prato, Cafaggiolo in Barberino di Mugello, Villa del Trebbio in San Piero a Sieve, and Palazzo di Seravezza in Lucca. They are spread across Tuscany and adding to their obscurity, not all of them are open to the public. Yet, the few that are accessible are well worth exploring, especially if you're like me and have a keen curiosity (although some would say obsession) for this infamous family.
Humble Beginnings
In 1389 Cosimo de' Medici was born into a medieval world. He was not of noble birth, although he would later ascend to the title of Pater Patriae (Father of the Country). As a boy, he was simply the son of a merchant named Giovanni. As Cosimo grew, his father also grew their family fortune by making shrewd deals and calculated risks. Giovanni founded the Medici bank that began as a small operation out of the back of a wool shop that later became known as "God's Banker" when he was given control of the Pope's finances. Yet with all of his newfound riches and status, Giovanni took great pains to retain an aura of modesty and warned his son to be cautious of enemies.
If you happen to be in the Mugello region, you can see Giovanni well represented in the defensive towers of the villas of Cafaggiolo and Trebbio. They are unique in that they are not traditional villas, instead they are quite severe castles with parapets, although they were expanded to include a garden (albeit they were walled). In the end Cosimo did heed his father's words and used these properties as refuge for the family in times of trouble.
A Place to Think
Closer to the city, Cosimo commissioned his architect, Michelozzo to create another villa – one that was less imposing and much more inviting. And so was born the idea to build a large loggia to overlook the lush garden that was then decorated by artists such as Pontormo and Bronzino. With ample space for socializing, it became a space where artists were invited to gather and work. At its height it became the site of the Platonic Academy, where the Renaissance's great thinkers were invited to study, translate and interpret the writings of Plato and other ancient philosophers. It was arguably Cosimo's favorite retreat and it was also where we took his last breath.
While this site has not been by the public for quite some time, it is finally slated to once again open its doors next year (which means I'll be returning to Tuscany very soon).
Pinnacle of Magnificence
Cosimo's grandson, Lorenzo de' Medici – later known as Lorenzo the Magnificent – became ruler of the Florentine Republic at the young age of 21. Inspired perhaps by the time he spent at his grandfather's Villa di Careggi, he too set out to expand on the concept of a home and commissioned a lavish summer residence west of Florence. Villa di Poggio a Caiano became the architectural pinnacle of the Medici villas.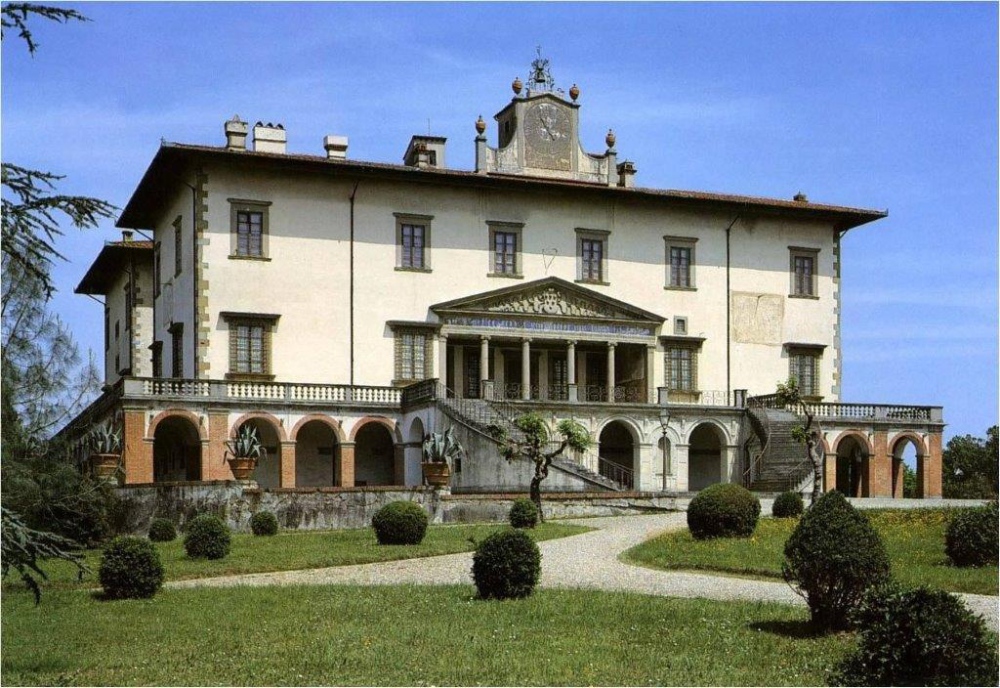 Only 40 minutes from the center of Florence, it's well worth to spend time touring this beautiful property. At the peak of Medici rule, it was the place to be, hosting celebrations and weddings, as well as performances of literary classics in its theater and showcasing exotic animals on its grounds. While it is no longer home to Lorenzo's pet giraffe, you can still take in its exquisite splendor with hundreds of works of art on display. Among the Medici collection on view are Filippino Lippi's fresco decoration depicting the sacrifice of Laocoön and the allegory of Vertumnus and Pomona by Mannerist master Pontormo. Spend some time strolling through the gardens to admire the rare plant species, smelling the aroma of the citrus trees and stopping to admire the sculptures and statues – the most famous being Capture of the Water Nymph Ambra by Ombrone.
A Place to Gather
The Medici family proliferated the idea that a home should be the center of social activity. As a result, a revolutionary concept was developed, which was to create a connection between architecture, gardens and the surrounding environment. Whichever of the 12 villas you find yourself visiting, they each feature sweeping terraces to overlook lush gardens, and the grounds were adorned with marble sculptures and fountains, as well as natural alcoves and caves for added inspiration. This new way of living in one's home became an enduring reference not only for aristocratic residences throughout Italy and Europe, but also, in a small way, the concept has found its way into our modern homes.
The next time you invite friends over for drinks on your patio, remember to toast to the Medicis.